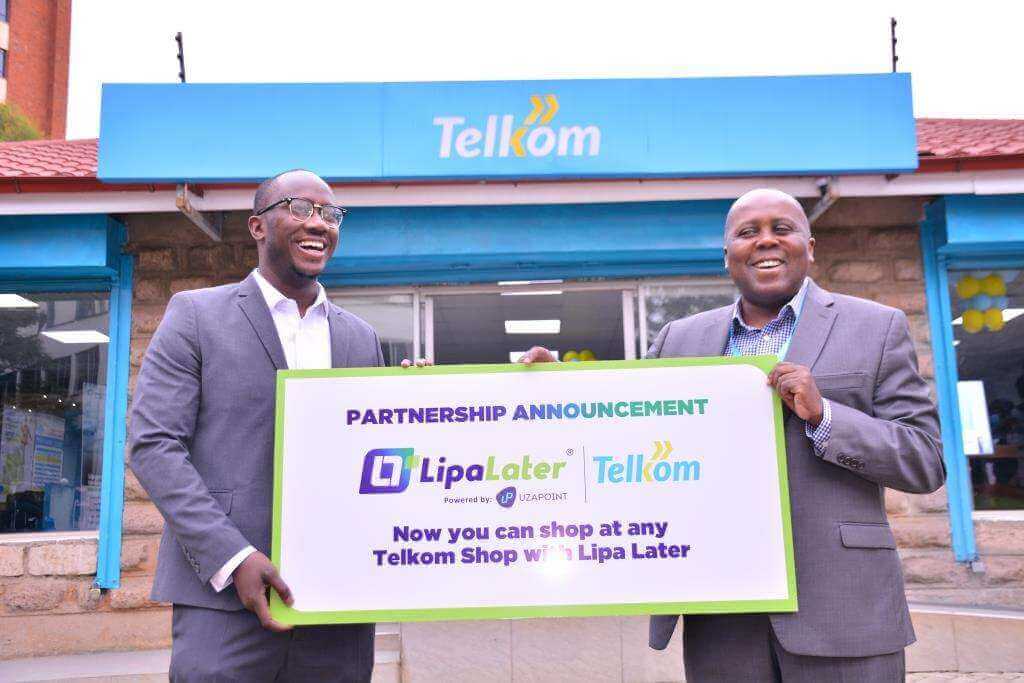 The partnership offers product financing that will make it easier for Kenyans to access smart mobile devices;
Smart mobile devices will now be more accessible to customers through affordable monthly installments;
This product financing solution is available at all Telkom shops across the country.
Nairobi, June 28, 2022: Technology company Telkom, and Buy-Now-Pay-Later company Lipa Later, have partnered to offer Kenyans a product financing solution that will make it easier to purchase smart mobile devices. With this partnership, both companies are looking to make these devices more accessible to consumers through affordable monthly installments.
Uptake of smartphones continues to grow with more people getting to appreciate the advantages of having access to the Internet in the palm of their hand. This partnership blends with Telkom's vision of empowering its customers to access mobile and data services.
Telkom CEO, Mugo KIBATI says:
"Telkom is excited to announce this partnership as it speaks to our belief that access to Mobile Data is a fundamental human right. This is due to its strategic potential to progressively address digital inclusion; ensuring the benefits of the Internet and digital technologies are available to more Kenyans, consequently empowering the digital economy."
According to the Global Systems for Mobile Communications Association (GSMA), there is ample opportunity for the mobile industry and ecosystem players to improve smartphone affordability among these consumer segments.
Mr. KIBATI adds:
"Telkom remains committed to enabling Kenyans be part of an interconnected world. We continue to have exploratory discussions with our partners to find solutions that will enable our customers have access to a wide range of authentic products and services, affordably and conveniently. Coupled with the easier access to smart mobile devices through this partnership with Lipa Later, our customers will also be able to enjoy affordable Mobile Data through our products such as the recently launched Changa Bundle which enables Kenyans to share data, minutes, voice and SMSs."
Lipa Later CEO, Eric MULI says:
"We are delighted to kick start this partnership with Telkom that will enable both our customers to get and stay connected by acquiring mobile and data devices affordably. Consumers can walk into any Telkom store, sign up with Lipa Later, get a credit limit in less than 5 minutes, pick a device of their choice at zero deposit, and get connected to mobile and data services, and pay for the same in upto 12 monthly installments."
"Additionally with our integration with UzaPoint, the process at the checkout till will be seamless for the consumer across all the Telkom outlets in the country," he adds.
Through this partnership, consumers will be able to access select phones from brands such as: iPhone, Nokia, Oppo, Realme, Tecno, Ulefone, Vivo, Xiaomi, Huawei, Bontel and Itel.
The Global Buy Now Pay Later industry's market size was valued at $90.69 Billion in 2020 and is projected to reach $3.98 Trillion by 2030, growing at a compound annual growth rate of 45.7% from 2021 to 2030.
Retailers are now offering Buy Now Pay Later solutions that enable their customers to purchase essential goods by choosing an affordable financing plan and paying in installments instead of the entire cost all at   once. The increase in the adoption of online payment methods across developing nations is also accelerating the growth of the buy now pay later payment market.
Ends…/
About Telkom
Telkom is a technology company that provides integrated solutions to individuals, Small and Medium-sized Enterprises (SMEs), Government and large corporates in Kenya, drawing from a diverse solutions suite that includes voice, data/connectivity, digital financial services, as well as network services. Powered by its vast fibre optic infrastructure, it is also a major provider of wholesale carrier-to-carrier traffic, within the country and the region.
These services are primarily offered through our Service Delivery Units: Digital (that offers: Data Centre Services, Cloud, Managed Services, Connectivity, Broadband, Carrier-to-Carrier traffic, and Backbone Infrastructure); Consumer (that offers: Data, Voice, VAS, and Content) and Digital Financial Services (through our platform T-kash).
Telkom is also building on strong, consumer-centric ethos and is committed to providing innovative, accessible and refreshingly simple communications solutions that suit customers' everyday communication needs.
Established as a telecommunications operator in April 1999, Telkom is 60 per cent owned by Helios Investment Partners, with the remaining stake held by Kenyans through the Government of Kenya.
Telkom has 4,152 km of its own terrestrial fibre cabling, serving as a key conduit for broadband connectivity, inland. Telkom Kenya owns a 22.5% stake in The East African Marine System (TEAMS), a 5,000km undersea fibre optic cable through Fujairah, UAE. Telkom also hosts and operates this cable. Telkom also owns a 10% stake in the Lower Indian Ocean Network II (LIONII), a 2,700km undersea fibre optic cable through Mauritius. It also owns a stake in the Eastern Africa Submarine Cable System (EASSy) through shareholding in the West Indian Ocean Cable Company (WIOCC). Eassy is a 10,000km cable from Mtunzini, South Africa to Djibouti. Telkom is also the landing partner for the LIONII, EASSy, the Djibouti Africa Regional Express 1 (DARE 1) a 4,854km cable from Djibouti to Mombasa, and lately, the Pakistan and East Africa Connecting Europe Cable (The PEACE Cable) a 15,000km cable from Marseilles, France through to Singapore and South Africa.
Please visit www.telkom.co.ke to get to know more about Telkom.
For clarification, please contact: George MLAGHUI | gmlaghui@telkom.co.ke
Follow Telkom on Twitter: @TelkomKenya
About Lipa Later
Lipa Later is a buy now, pay later platform that allows retailers to sell goods and services to consumers in affordable monthly instalments.  It is the leading third-party instalment plan for retailers in East Africa and currently operates in Kenya, Rwanda, Uganda and Nigeria.  The company's product offering allows for both online and offline integration with retailers and both online and offline sales platforms including mobile wallets for consumers.  For more information, please visit https://lipalater.com.