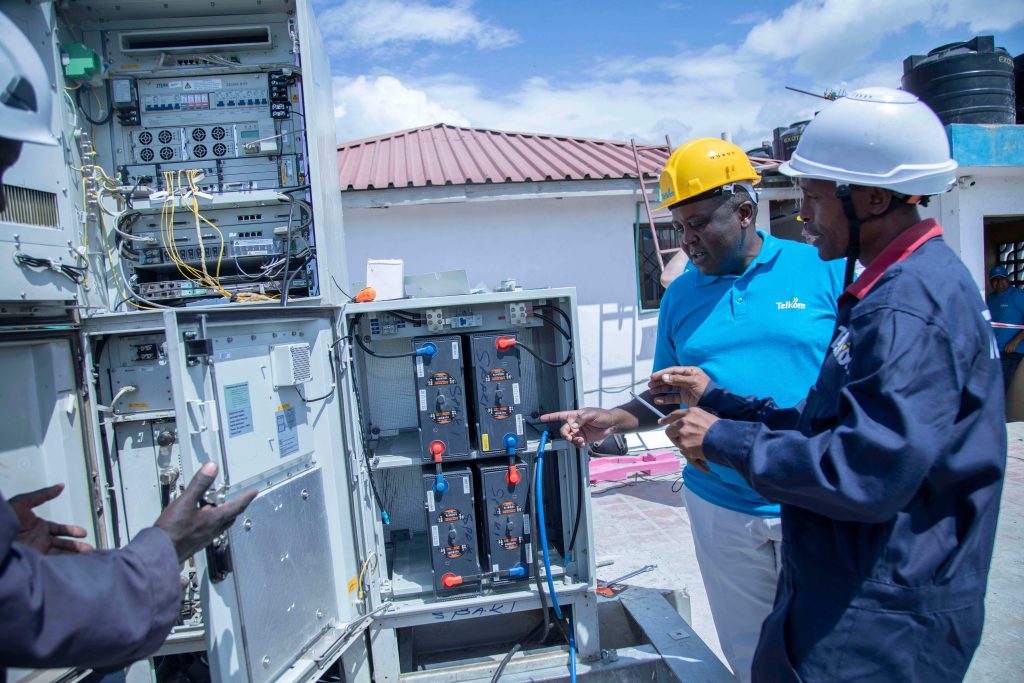 Telkom has added an additional 224 4G sites in the area;
These are part of the additional 2,000 4G sites that Telkom will add to its Mobile 4G/LTE Network, countrywide, by the end of 2023;
Pre-paid Mobile Subscribers will also get to enjoy an hourly Mobile Bundle that is exclusive for the Coast and Lower Eastern regions.
Mombasa, Tuesday, July 12, 2022: Technology company Telkom has completed the Coast and Lower Eastern phase of its countrywide Mobile 4G/LTE Network expansion, covering Mombasa, Kilifi, Kwale, Lamu, and Taita/Taveta, as well as Makueni, Machakos, Kitui, and Kajiado Counties.      
This network expansion in the area is a key milestone within the nationwide network rollout plan that Telkom, together with its partners, networks and telecommunications company Ericsson, and systems integrator NEC XON, announced in November last year, to add an additional 2,000 4G sites onto Telkom's Mobile 4G/LTE Network, by 2023. 
This nationwide rollout that is set to cost US $ 100M, is part of Telkom's long-term network expansion strategy that addresses digital transformation, as well as lay the groundwork towards the company's long-term goal to become the technology partner of choice to its customers in Kenya and the region. Digital transformation is particularly important within the telecommunications sector, creating an increased demand for broadband, connectivity, and digital platforms, by the individual consumer, corporates, and the public sector.
Telkom Kenya's CEO, Mr. Mugo KIBATI says:
"This is a very exciting milestone for Telkom. We firmly believe that Mobile Data is a fundamental human right and it has now emerged as a daily necessity. We remain committed to better position our infrastructure asset base and services to drive digital transformation within our various Customer segments thus providing them with more value, as well as bridge the digital divide through the expansion of our Mobile Data Network." 
Today's customer is also demanding more competitive and comprehensive products that address their different and ever-changing needs: browsing, downloading, streaming, mobile money transactions, reading the news online, and updating their apps; actions that are now very important to everyday life. 
Mr. KIBATI adds: 
"We remain cognisant of the integral role our Mobile Data network plays in keeping our customers connected. We are on course with our long-term terrestrial network expansion plan which will see us scale up to 80% of our network to 4G, increase our network footprint across the country, and get more Kenyans online."
Telkom's pre-paid Mobile Subscribers at the Coast and Lower Eastern regions will also get to enjoy the Barizi Bundle, an hourly Mobile Bundle that is exclusive to the region. All a customer will need to do is dial *544*0*2#, follow the prompts and access the Bundle. The hourly bundle has two offers: 350 MB at KSh. 5, and 1GB at KSh. 10.
   Ends…/  
About Telkom
Telkom is a technology company that provides integrated solutions to individuals, Small and Medium-sized Enterprises (SMEs), Government and large corporates in Kenya, drawing from a diverse solutions suite that includes voice, data/connectivity, digital financial services, as well as network services. Powered by its vast fibre optic infrastructure, it is also a major provider of wholesale carrier-to-carrier traffic, within the country and the region.
These services are primarily offered through our Service Delivery Units: Digital (that offers: Data Centre Services, Cloud, Managed Services, Connectivity, Broadband, Carrier-to-Carrier traffic, and Backbone Infrastructure); Consumer (that offers: Data, Voice, VAS, and Content) and Digital Financial Services (through our platform T-kash).
Telkom is also building on strong, consumer-centric ethos and is committed to providing innovative, accessible and refreshingly simple communications solutions that suit customers' everyday communication needs.
Established as a telecommunications operator in April 1999, Telkom is 60 per cent owned by Helios Investment Partners, with the remaining stake held by Kenyans through the Government of Kenya.
Telkom has 4,152 km of its own terrestrial fibre cabling, serving as a key conduit for broadband connectivity, inland.
Telkom Kenya owns a 22.5% stake in The East African Marine System (TEAMS), a 5,000km undersea fibre optic cable through Fujairah, UAE. Telkom also hosts and operates this cable. 
Telkom also owns a 10% stake in the Lower Indian Ocean Network II (LIONII), a 2,700km undersea fibre optic cable through Mauritius. It also owns a stake in the Eastern Africa Submarine Cable System (EASSy) through shareholding in the West Indian Ocean Cable Company (WIOCC). Eassy is a 10,000km cable from Mtunzini, South Africa to Djibouti. Telkom is also the landing partner for the LIONII, EASSy, the Djibouti Africa Regional Express 1 (DARE 1) a 4,854km cable from Djibouti to Mombasa, and lately, the Pakistan and East Africa Connecting Europe Cable (The PEACE Cable) a 15,000km cable from Marseilles, France through to Singapore and South Africa.
Please visit www.telkom.co.ke to get to know more about Telkom.
Ends…/