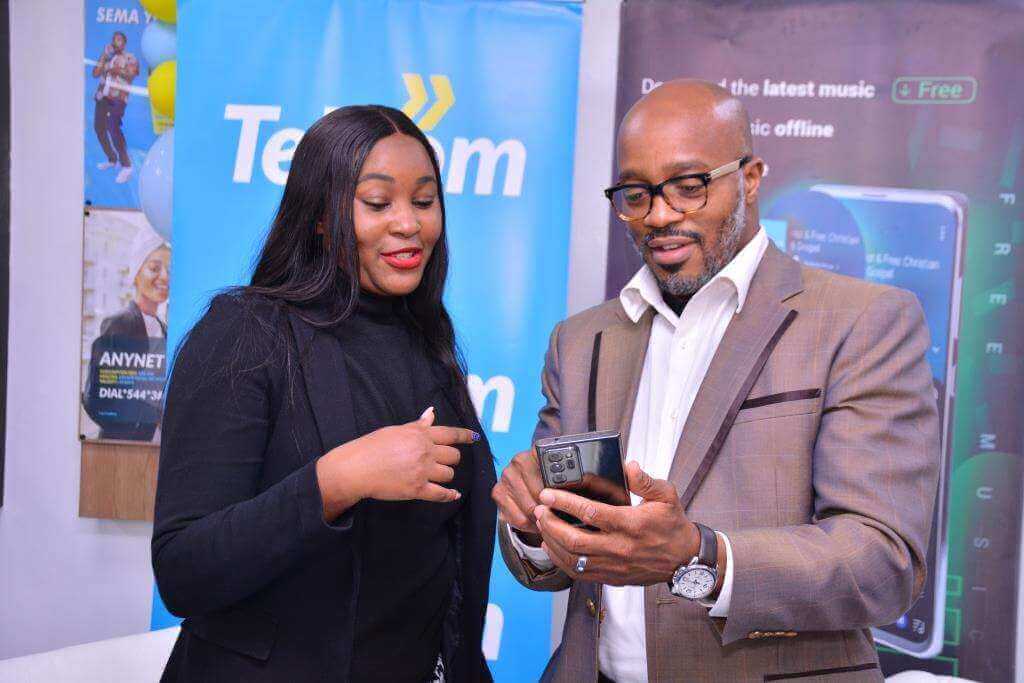 Boomplay, Africa's most extensive music streaming and download platform, has announced a partnership with Technology Company Telkom, enabling subscribers to enjoy more affordable music streaming and downloads on the Boomplay app.
This partnership will make music more easily accessible to Kenyans, offering subscription packages that will enable Telkom users to access the over 75 million local and international songs on Boomplay for as low as KSh. 299 a month. This package will also give Telkom subscribers access to ad-free music and unrestricted downloads from artists such as Otile Brown, Nadia Mukami, Khaligraph Jones, and Nikita Kering, amongst other homegrown and international artists whose music is available on Boomplay.
"This partnership is a great step in our journey to ensure that music is more affordable and accessible to users across the country. With millions of subscribers on their platform, Telkom offers the ideal opportunity to enhance our vision of ensuring the African music ecosystem unlocks its full potential," says Martha Huro, Boomplay's Managing Director East Africa.
Her sentiments were echoed by Telkom's Marketing Director, Eric Achola: "With increased commoditization of the Internet, content is king and we are looking at leveraging our mobile data network to give our customers an unrivaled experience. It is strategic partnerships such as these that will make this happen faster."
He Added "This tie-up allows for growth and subscriber retention for both partners through affordable data by Telkom and new content on demand from Boomplay."
This development is the streamer's first partnership with a telco in Kenya.
Streaming music packages to be introduced will include daily at KSh. 49, weekly at KSh. 159 and a monthly subscription at KSh. 299, which will be charged from the subscriber's airtime.
-Ends-
About Boomplay
Boomplay is a music streaming and download service provided by Transsnet Music Limited. Boomplay houses millions of songs, videos, and entertainment news and allows its users to stream and download their favourite songs and videos and subscribe to access premium features such as ad-free streaming and saving music for offline play. Boomplay currently has over 70 million monthly active users (MAU) with a catalogue of over 80 million songs. The service is available globally on mobile through the Google Play Store for Android, App Store for iOS and on the web via www.boomplay.com. The company has regional offices in Kenya, Nigeria, Ghana, Tanzania, Cote d'Ivoire and Cameroon.
Social Media Pages: FB- @BoomplaymusicKE TW- @BoomplaymusicKE IG- @Boomplaymusicke  LI-@Boomplay
About Telkom
Telkom is a technology company that provides integrated solutions to individuals, Small and Medium-sized Enterprises (SMEs), Government and large corporates in Kenya, drawing from a diverse solutions suite that includes voice, data/connectivity, digital financial services, as well as network services. Powered by its vast fibre optic infrastructure, it is also a major provider of wholesale carrier-to-carrier traffic, within the country and the region. Please visit www.telkom.co.ke to get to know more about Telkom. Social Media Pages: IG- @Telkom_ke FB- @TelkomKenya TW- @TelkomKenya LI-@telkomke
For more information, contact:
For Boomplay:
Camilla Owora
PR Manager, Boomplay Kenya
For Telkom:
George Mlaghui
Director of Corporate Communications, Telkom